G. Michael Huffman
Sport Aviation Specialties, LLC
1512 Game Trail
Lawrenceville, GA 30044
770-548-1206



Copyright © 2005 - 2015
G. Michael Huffman
All rights reserved
Member of ASTM F37 Light-Sport Aircraft Committee

Member of Light Aircraft
Manufacturers Association

Disclaimer: FAA regulations, orders, policies, ASTM publications, and other documents are subject to change and interpretation. Any information on this site that pertains to those documents is for reference only. It is the responsibility of visitors to verify all such information with the FAA or ASTM.
Site optimized for 800 x 600 display
Middle Tennessee Ultralight Group Hosts Repairman Course in Lebanon, TN
Late September 2006 took us to Lebanon, TN, where a very enthusiastic group from the Middle Tennessee Ultralight Group (MTUG) welcomed us for a fixed-wing repairman course. The scene was Todd Lawicki's beautiful Salem Road Field, MTUG's home. Todd's hangar was the perfect setting for the course, replete with several light-sport aircraft.

Here is the group that attended.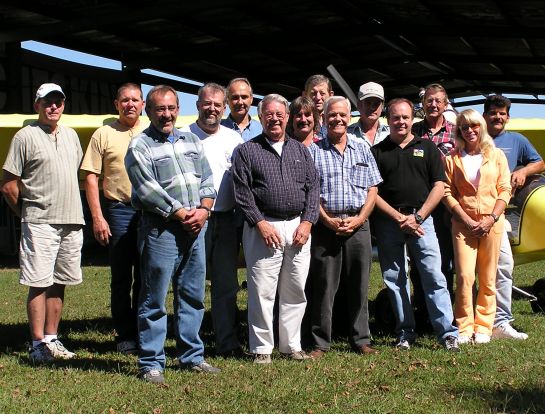 Front row, left to right: Thomas Cole, James Robertson, Harold Little, David Carter, & Cynthia Nixon
Middle row, left to right: Michael Schnabel, Todd Lawicki, Robert Saltz, John Harvey, Chris Heard, James Brown, & Wade Lawicki
Back row, left to right: Jeffrey Muth & Eddie Pittman