G. Michael Huffman
Sport Aviation Specialties, LLC
1512 Game Trail
Lawrenceville, GA 30044
770-548-1206



Copyright © 2005 - 2015
G. Michael Huffman
All rights reserved
Member of ASTM F37 Light-Sport Aircraft Committee

Member of Light Aircraft
Manufacturers Association

Disclaimer: FAA regulations, orders, policies, ASTM publications, and other documents are subject to change and interpretation. Any information on this site that pertains to those documents is for reference only. It is the responsibility of visitors to verify all such information with the FAA or ASTM.
Site optimized for 800 x 600 display
Weight-Shift Repairman Course Completed in Spartanburg, SC
On the wonderful spring weekend of March 24-25, 2007, with temperatures in the 70s and 80s, Gene Fulton hosted our weight-shift course at his beautiful private airstrip near Chesnee, SC, amid an impressive array of toys aeronatical and automotive. Many, many thanks to Gene and to Larry Craddock for helping to make the course a great success!

Here is the group that attended.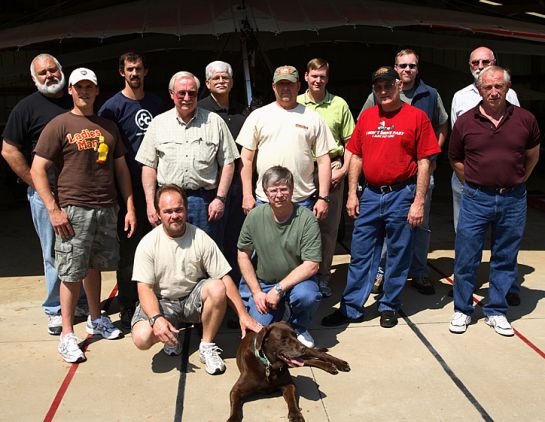 Back row, left to right: Danny Fulton, Harrison Shull, John Dickinson, Gerald Bailey, Jonathan Adams, & Bobby Greer

Middle row, left to right: Nick Jolly, Larry Craddock, Steve Bradley, Gene Fulton, & Jimmy Dill

Front row, left to right: Kelly Easler, Keith Howard, and Morgan the Dog