G. Michael Huffman
Sport Aviation Specialties, LLC
1512 Game Trail
Lawrenceville, GA 30044
770-548-1206



Copyright © 2005 - 2015
G. Michael Huffman
All rights reserved
Member of ASTM F37 Light-Sport Aircraft Committee

Member of Light Aircraft
Manufacturers Association

Disclaimer: FAA regulations, orders, policies, ASTM publications, and other documents are subject to change and interpretation. Any information on this site that pertains to those documents is for reference only. It is the responsibility of visitors to verify all such information with the FAA or ASTM.
Site optimized for 800 x 600 display
Weight-Shift ELSA Repairman Course in St. Marys, PA
On October 28-29, 2006, we made our way to the mountains of western Pennsylvania, where Lori and Bob Keech of Cloud 9 Aerosports hosted our weight-shift ELSA repairman course. Fall had definitely "fell" at the 2000-ft. elevation of St. Marys Municipal Airport--we were treated to sub-freezing weather and snow!

We had a full house--a total of 16 students attended. Part of that enthusiasm was due to Lori catering a wonderful several-course gourmet lunch on both days.

Here is the group that attended.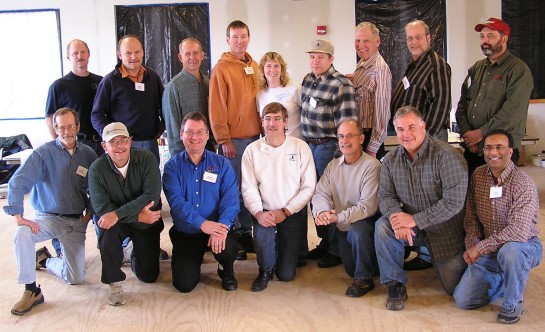 Back row, left to right: Robert Grieb, Dwight Dolezel, Duane Caton, Doug Lynch, Lori Keech, Bob Keech, James Austin, Steven Kozelka, Scott Smith

Front row, left to right: David Hasbrouck, Tom Greenwald, Stephen Warburton-Pitt, Kim Roberts, Willard Mortenson, John Williams, Paul Kaman