G. Michael Huffman
Sport Aviation Specialties, LLC
1512 Game Trail
Lawrenceville, GA 30044
770-548-1206



Copyright © 2005 - 2015
G. Michael Huffman
All rights reserved
Member of ASTM F37 Light-Sport Aircraft Committee

Member of Light Aircraft
Manufacturers Association

Disclaimer: FAA regulations, orders, policies, ASTM publications, and other documents are subject to change and interpretation. Any information on this site that pertains to those documents is for reference only. It is the responsibility of visitors to verify all such information with the FAA or ASTM.
Site optimized for 800 x 600 display
Bede BD-8 Amateur-Built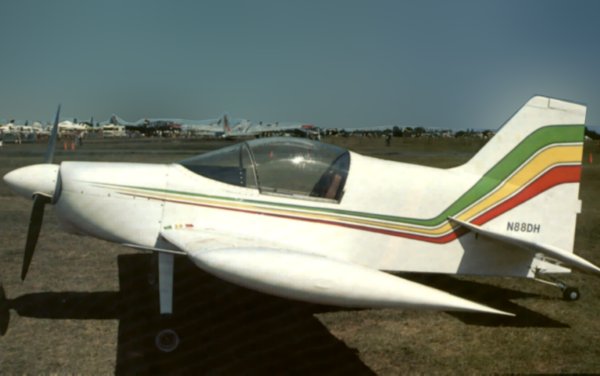 This Bede BD-8 was purchased by Mike Huffman partially-completed following the Bede Aircraft bankruptcy auction in 1977. Huffman finished the aircraft in 1980 and flew it to Oshkosh; this photo was part of a feature article in Sport Aviation in January 1981. The single-place airplane was designed by Jim Bede for competion aerobatics, featuring a Lycoming I0-360 engine, constant-speed prop, sheet metal fuselage and tail group, composite wings, and composite spring main gear.

The large, slab-sided aft fuselage was desiged to enhance knife-edge performance. A unique feature of the design (though not incorporated on this aircraft) was that each half of the all-flying stabilator moved independently in concert with the ailerons--the idea was to provide better roll rates during vertical rolls.